Bucket trucks and cranes are equipped with outriggers to ensure stability when the truck is being used. Outriggers act as balances to keep the machines from leaning too much to one side or the other; they lift the entire truck off the ground – tires and all. If that sounds unbelievable to you, you may want to read our blog titled Bucket Truck Hydraulics.
Large hydraulic truck cranes are used to lift heavy loads so it's necessary that the truck be stable during the lifting operation. Even though the crane's tires are large and wide, they are not enough. Functional outriggers are critical for the safety of the operators, not to mention the machine itself.  Outrigger pads, discussed later in this article, can provide even more security.
Types of Outriggers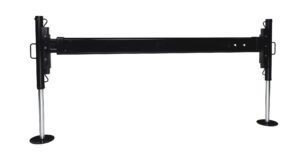 There are two primary styles of outriggers, a typical "H" style system and an "A frame" style,  The "H" system contains these standard components:
Two stabilization legs – sized and oriented to a truck's design
Center tube
Pump and manifold assembly
Control panel
Wiring harnesses, hoses, and connectors

The "A Frame" system is where the legs extend down at an angle – see picture below.
A-frame outriggers may be installed behind the cab of the truck, while H-style outriggers are often at the rear of the truck. Both styles are acceptable for stabilizing crane trucks.
Proper Usage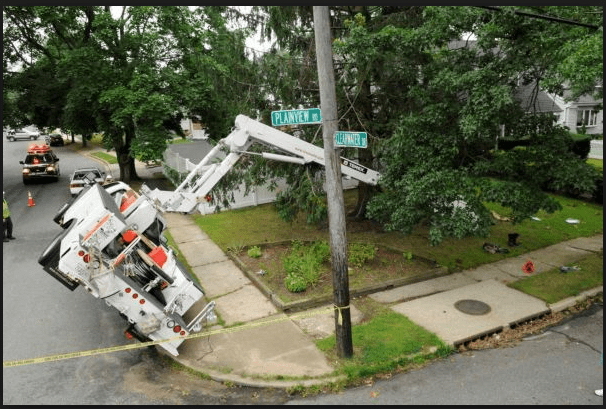 To ensure safe lifting the outrigger feet must be in full contact with stable, flat ground. If the outrigger foot is positioned on ground that is soft or otherwise unstable, the foot can sink into the ground, causing the truck to become unstable.
And to ensure a more stable surface for the outrigger, outrigger pads should be used under the feet. Outrigger pads greatly reduce the chance of tipping because they expand the surface area in contact with the ground. As an added bonus, outrigger pads protect paved surfaces.
Outrigger pads
Wood Pads
Wood pads are inexpensive and easy to make or purchase. Wood pads also have some significant limitations.
Wood outrigger pads weigh considerably more than engineered outrigger pads. A 24"x24" wood pad weighs about 41 lbs. A 24"x24" engineered outrigger pad weighs 18 lbs.
Wood is a natural material that can easily crack, break or splinter when put into use.
Once in the field, a wood outrigger pad will experience significant stress from equipment loads, varying soil conditions and exposure to the elements such as water, heat and cold. These environmental factors cause wood outrigger pads to degrade fairly quickly.
Even the most advanced water proofing methods will be compromised once the initial cracking of the wood fibers occurs. Wood outrigger pads get heavier over time as they absorb moisture.
Due to these issues, very few wood outrigger pads survive more than 1-2 years of consistent stress in the field.
Over a ten-year period, it would not be surprising to have to replace a wood outrigger pad up to five times. For a 24″x24″ wood pad that is 1 inch thick, the replacement cost for a wood outrigger pad would be $500.00 or more. In comparison, a 24"x24"x1" engineered outrigger pad may not need to be replaced during a ten-year period.
Engineered Pads
Engineered Thermoplastic Outrigger pads have some significant advantages
Lighter than wood outrigger pads, so few lifting injuries and lower worker's compensation claim costs
Designed with portable high-performance load distribution
Ergonomically safe for operators and crews
Built with TuffGrip handle so they won't pinch hands or injure workers
Waterproof & chemical resistant, so impervious to rot and absorption
Over a period of 10 years, the replacement cost could very well be $0.00.
Unbreakable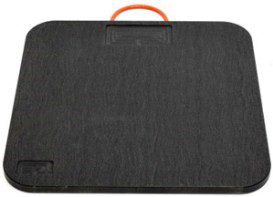 See Table below for examples of Outrigger Pad Ratings:

| | | | |
| --- | --- | --- | --- |
| Pad Description | Thickness | Crush Rating | Maximum Rated Capacity |
| Light Duty | 3/4″ |  150 psi | 50,000  lbs |
| Medium Duty | 1″ |  200 psi | 100,000 lbs |
| Heavy Duty | 2″ |  500 psi | 175,000 lbs |
| Super Duty | 3″ |  600 psi | 250,000 lbs |
| Super Plus Duty | 4″ |  750 psi | 325,000 lbs |
Utility Equipment Parts offers DICA Outrigger Pads that can be custom designed to meet your needs – just about any size. We offer round, square, or rectangle – pretty much every configuration you can think of.  Give us a call or email and we will get you the outrigger pad you need!
The "UEP" Guys  


  We Know Parts!   (For those of you reading our blog for the first time, we really are twins!)