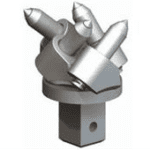 Replacement Tooling for Pengo Augers
Utility Equipment Parts carries a wide range of Pengo auger parts.  We will be happy to supply you with replacement parts and other accessories including:
bolts
cast heads
hubs
shanks
teeth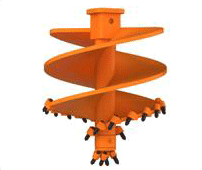 These high-quality products from Pengo are designed to withstand your toughest digger derrick jobs.  Pengo augers, bits, and auger teeth are designed to increase efficiency and accuracy making your job easer reducing wear and tear on your equipment and crew.
Pengo augers are known for using the highest quality materials available for lasting strength and durability.  Depending on your company's needs, from soft dirt to clay to hard rock; Pengo augers get the job done quickly and accurately and with minimal labor.
Pengo Medium Duty (MD) Augers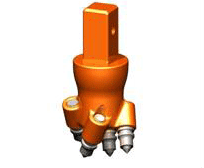 The Pengo medium duty (MD) auger line is the most widely-used utility auger in the world.  If you need something special, they will event design a custom auger specific to your drilling needs.
Recessed hub connection to add stability
Seam welds to increase life cycle
High yield center shaft walls
Patent pending flight stabilizer gusset
Wide variety of flight lengths and head options
Pengo Augers for Every Job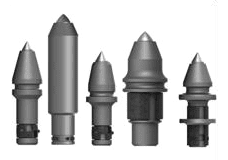 Thanks to a Pengo auger, your digger derrick can be the most versatile tool you own.  Engineered to perform and deliver, every auger and accessory is built to outlast and outperform the competition.  From common dirt to rocky, rough soil, we have the auger you need.
Dirt auger for dirt, sand, and silt
Dirt auger with carbide teeth for clay, gravel, and fracturable rock
Rock auger for non-fracturable rock
A Pengo auger is not just another tool. A Pengo auger is an investment that reduces labor times and bolsters efficiency.   You will not find a better auger anywhere else … don't settle for an inferior product.  No matter what material you need to work with you can handle it with the right Pengo auger.  Rip through dirt, stone, and obliterate rocks; nothing will stand in your way!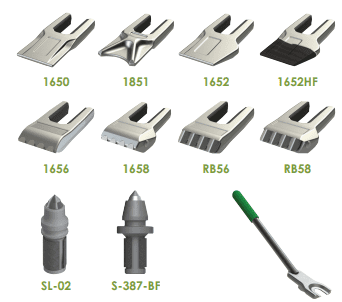 The Pengo augers have "progressive style" designs with features such as:
pocket and teeth angles designed to provide a smooth drilling action to reduce vibration.
Rock Ripper® augers feature Pengo's exclusive Strata® series conical teeth, with drilling grade carbide that lasts longer and greatly improves drilling efficiencies.
Triflow pilot bits which last longer and improves drilling stability
When you invest in the industry's best utility equipment, you can provide superior results at an affordable price no matter whether you are looking for parts such as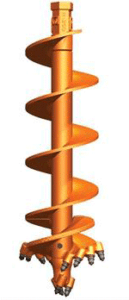 pilot bits
rock ripper shanks
carbide teeth,
dirt teeth
and more.
Utility Equipment Parts offers outstanding value on Pengo augers and auger tooling!  Whatever you need to drill, we have the right part for the job.  If there is a Pengo product you do not see listed on our website, give us a call. We will get you the Pengo augers and Pengo auger tooling and components you are looking for. Experience the Utility Equipment Parts service difference on your next Pengo auger order!
We also offer related products such outrigger pads, nylaflow tubing, lighting and provide an control valve rebuild service.
Learn more
Click here for additional auger accessories or read related posts shown below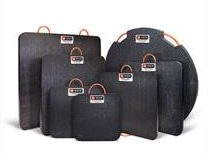 Bucket trucks and cranes are equipped with outriggers to ensure stability when the truck is being used. Outriggers act as balances to keep the machines from leaning too much to one side or the other; they lift the entire truck off the ground – tires and all. If that sounds unbelievable to you, you may […]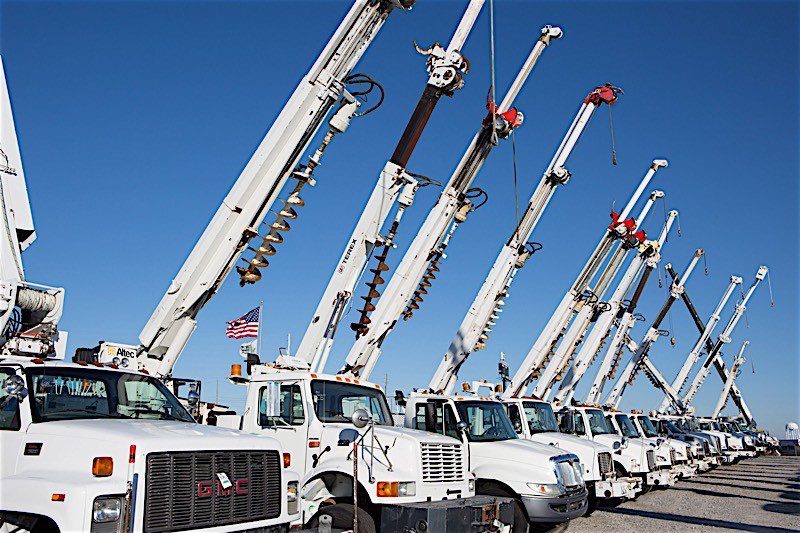 Digger derricks are used mainly in the electrical, telecommunications, and cable fields, as well as in the construction industry.  Derrick trucks feature an auger that drills the hole, and pole clamps to grasp the pole as it is being inserted. The main components of a digger derrick are the pedestal, the turntable, the booms, the […]