Learn more about Utility Equipment Parts and how we do business.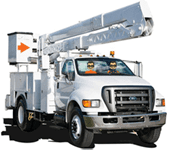 Utility Equipment Parts, LLC (UEP) is a family-owned business.  Our pledge is to provide prompt, responsive service … guaranteed every day. We understand that a down truck hurts your business and we commit to being there to answer your call or email. Our goal is to make you a repeat customer, like over 90% of our current customers.
UEP has been in business since 2009. The business was started in Wisconsin but our office is now in Akron, Ohio. We supply utility truck parts to:
United States and its territories such as Puerto Rico, Marianas, Guam, etc.
Canada
Caribbean
Central America
South America
We offer parts and accessories for over 30 manufacturers and also carry aftermarket parts. The UEP Guys handle everything from large parts for cranes or digger derricks to small bucket covers.
Warranties
Warranties are product specific; most manufacturers offer limited one-year warranties.
Payment Methods  
We accept all major credit cards
For larger orders we accept wire transfers to our bank account
We also offer Net 30 payment terms upon credit approval
Once your order has shipped, our accounts receivable department will send an invoice via email or regular USPS mail if you prefer. The invoice will show the status of the order. If paid by credit card, the invoice will show "Paid." If Net 30 terms apply, the invoice will show the due date.
Shipping & Handling
We will strive to get your shipment to you quickly and cost effectively. We use different carriers and choose the best carrier for the job.
Package-sized shipments we use UPS or FedEx
Larger items we will ship via common carrier
Certain items the US Postal Service is the best option
Overnight shipping is available for most items.
Returns 
All returns must be pre-approved, and be within 60 days of the shipping date. A restocking fee may apply.
For credit card orders we will refund the charge to your credit card; for cash orders a refund check will be issued. In both cases proof of refund will be sent to you.
Contact Us
We welcome your questions and comments. If you are seeking a price quote please call or email.
Address: Utility Equipment Parts, LLC, Akron, Ohio 44313
Phone: 262-594-5964 … OR 877-761-5940
Email: tim@ueparts.com
Online: use our web form