Two of our most popular utility truck accessories are stanchions and reels.
Stanchions are a great way to more safely position poles
Reels are a fast, efficient way to wind up cable or wires
Learn more by reading below and then give us a call today regarding your specific need.
Sliding Stanchions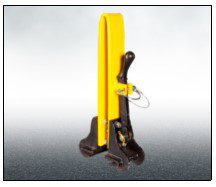 The Sliding Stanchion provides a convenient way to position poles.  Each stanchion is equipped with an over-center, variable tension, cam-lock assembly that locks into position using its large handle lever.  Stanchion are completely adjustable to fit various sizes of channel type or I-beam bolsters.
Sliding Stanchion Features:
Cast iron alloy steel
Cam-lock assembly
Completely adjustable
Height: 21"
Weight: 32 lbs
Collapsible Reels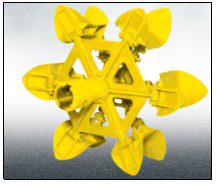 Collapsible Reel
The Collapsible Reel is used to take up wire or small diameter cable.  The design allows the wire to be wound onto the reel and then removed in a neat coil by turning the handle which collapses the outer rim of the pick-up reel.
Collapsible Reel Features:
Wire/cable capacity: 200 lbs
Max allowable pull: 3,500 lbs
Weight: 68 lbs