DICA Outrigger Pads
Tough, Guaranteed NOT To Break!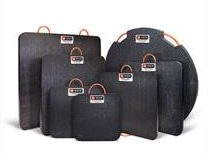 Utility Equipment Parts carries the full line of tough, durable DICA Safety Tech Outrigger Pads, perfectly suited for almost any size outrigger foot and utility application.  With over 25 years of experience in the industry, DICA has gained a reputation for providing the safest and toughest outrigger pads.  DICA proudly engineers and manufactures their outrigger pads here in the USA.
DICA Outrigger Pads are
Engineered with thermoplastic construction
Designed with portable high-performance load distribution
Ergonomicly safe for operators and crews
Built with TuffGrip handle won't pinch hands or injure workers
Waterproof & chemical resistant
Outrigger pads keep vehicles or machines from tipping while simultaneously protecting paved surfaces.  The pads are constructed of recycled engineered thermoplastic plastic that is generally black in color and has molecular properties, which make them virtually unbreakable.  Go ahead: drop them, drag them, submerge them in water, use them in freezing temperatures or searing heat.  They're unstoppable!
The DICA warranty provides against the breaking of all Safety Tech pads, provided the pads are used appropriately — for loads not exceeding the rated capacity and when used on ground with a minimum bearing capacity of 2,000 PSF.
DICA certifies that its Safety Tech pads will deliver the strength, reliability, and safety that thousands of customers worldwide trust every day.  DICA pads have the following standard safety features:
Industrial grade safety textured finish on both pad sides
Radius corners and edges manufactured to proprietary specifications
Safety orange engineered thermoplastic TuffGrip handle(s) affixed to the pad in one or more locations
Model number and weight information engraved in the lower left or lower center portion of all pads
DICA pads are resistant to
Oil
Liquids
Caustic agents.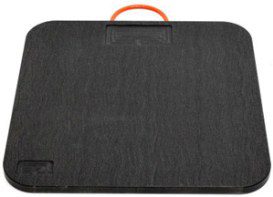 DICA Safety Tech Outrigger Pads come in a wide variety of shapes and sizes, perfectly suited to many different environments and requirements.  They provide a solid foundation for your equipment, reduce the chance of vehicle tip-over, and reduce the possibility of ergonomic injuries to operators.
DICA Outrigger Pads can be custom designed to meet your needs – just about any size.
Light duty … ¾" thickness
Medium duty … 1" thickness
Heavy duty … 2" thickness
Our two most popular outrigger pads are the: