Upper Control Valve Rebuild Service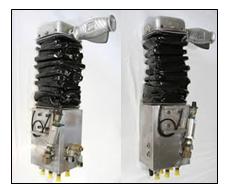 Do you need a valve rebuild?  When your upper control assembly is malfunctioning, it can show up in a number of ways
leaking fluid
sluggish response
certain functions of the control not working at all.
There are a number of ways of fixing a malfunctioning upper control valve.  The solution may be as simple as a seal kit to stop the leaking.  But it may be something more involved that would require detailed work to replace worn or damaged parts — such as pistons and small rods within the linkage.
Utility Equipment Parts provides a rebuilding service for most upper control valves, including Hi-Ranger single stick assemblies.  We can even service older bucket truck models.  The price for a rebuild is about half the price of a new upper control assembly, usually between $1,500.00 and $2,500.00 plus shipping.  All the working parts of the valve would be replaced.
It's an easy process.
Contact us and arrange to send us your control valve unit
The rebuild will take about 8 hours — no more than 2 days.
The rebuilt control is shipped back to you.
To start the process contact us for more information.