DICA makes durable, unbending outrigger pads for utility vehicles
DICA Safety Tech Outrigger Pads come in a wide variety of shapes and sizes, perfectly suited to many different environments and requirements.  They will provide a solid and stable foundation for your equipment, reduce the chance of vehicle tip-over, ensure proper load distribution, and reduce the possibility of ergonomic injuries to operators.
To read more about how important outriggers and pads are read our blog Outrigger Pads … Small, but Mighty!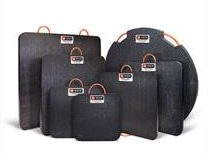 DICA Outrigger Pads can be custom designed to meet your needs – just about any siz:
Light duty –  ¾" thickness
Medium duty – 1" thickness
Heavy duty – 2" thickness
The company makes over 30 different models and can fit equipment up to 600 tons! Our two most popular outrigger pads are the D48482 and the D2424, please see their specifications below.

Heavy Duty DICA Outrigger Pads (D48482)
Features
Engineered Thermoplastic Construction
Portable High Performance Load Distribution
Ergonomic Safety for Operators and Crews
Industrial Grade Safety Texturing
Radius Edge and Corner Design
TuffGrip Handle System
Waterproof and Chemical Resistant
Lifetime Guarantee
Specifications
Dimensions: 48 x 48 x 2 Inches
Weight: 145 Pounds
Vertical Load Capacity: 140000 lbs
45 Degree Capacity: 55000 lbs
Surface Area: 2304 Square Inches
Medium Duty DICA Outrigger Pads (D2424)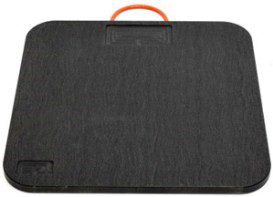 Features
Engineered Thermoplastic Materials for Sturdy Load Balancing
High Performance Load Distribution in a Portable Package
Ergonomic Safety for Operators and Crews
Industrial Grade Safety Texturing
Radius Edge and Corner Design
TuffGrip Handle System for Ergonomic Handling
Waterproof and Chemical Resistant
Lifetime Guarantee
Specifications
Dimensions: 24 x 24 x 1 Inches
Weight: 18 Pounds
Vertical Load Capacity: 60000 lbs
45 Degree Capacity: 35000 lbs
Surface Area: 576 Square Inches