The UEP Guys are proud to carry Tiiger Pole Puller accessories.  Tiiger utility equipment products are ergonomic and designed for
ultimate comfort
long-lasting durability
maximum safety
These pole extraction and support products are simple to operate, lightweight, and built with the highest-quality materials. Qualities which are all important when you are moving poles that weigh 700lbs+ and 40ft+ tall. Make you work even easier with accessories such  the Tiiger Cube and Tiiger Dolly.  All are engineered by linemen specifically for linemen. Tiiger's design team uses their work experience to ensure that they provide the highest level of functionality, safety, and convenience when used in the line of duty.
Key Tiiger Equipment Accessories
Tiiger Cube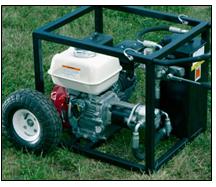 The Tiiger Cube is a compact gas-powered single stage hydraulic pump designed for use in remote or confined spaces.  The Tiiger Cube is specially designed for the Tiiger Pole Puller and is simple to operate.  Set the on-off switch to on and open the fuel line switch, set the choke and throttle, pull the recoil starter and off you go!
The Tiiger Cube is equipped with 10-inch all-terrain tires providing ease of mobility.
Tiiger Pole Dolly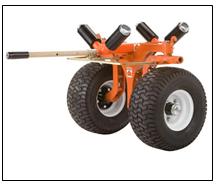 The Tiiger Pole Dolly allows the pole to be easily moved by two people — one person steering the dolly and the second holding and guiding one end of the pole.  Lifting a 45-foot pole and placing it on Tiiger Pole Dolly and then moving it in any direction is accomplished by positioning the pole in the roller cradle at the balance point of the pole.
Its unique feature of 180 degree steering allows complete mobility.  The dolly is maneuverable in confined spaces, being only 32 inches wide and constructed with high-yield strength steel.  The pole dolly is equipped with large turf-friendly tires mounted on hubs complete with sealed roller bearings.  The axles incorporate machined kingpins with bronze bushings and are equipped with grease fittings.  There are three steering positions — front, left or right side.
The pole roller cradle is constructed with high strength steel and equipped with high molecular weight polyethylene rollers.
Additional Tiiger Pole Puller Accessories
We also carry Tiiger accessories such as:
Tiiger ground rod drivers and sockets.  This combination of tools eliminates the need to climb above the rod for installation and includes a positioning guide pin for ease and safety.  designed with a unique positioning guide pin it eliminates the need to climb above the rod for installation.  Can be positioned at any height.
Tiiger cage organizers: Securely, tidily, and efficiently accommodates all (except the pole puller pad) the components of a pole puller setup.  Has an optional wheel and handle kit.
Tiiger Clamshell Attachment: High strength steel coated to grip and remove metal poles.  Sold in three different sizes to remove 8-12″, 12-16″, or 16-20″ poles.
Read more about Tiiger Products
[su_posts posts_per_page="2″ tax_term="9″ order="asc" orderby="rand"]