Digger Derick Parts & Accessories & Auger Tooling
for  Pengo, Terex, Altec and other well-known manufacturers.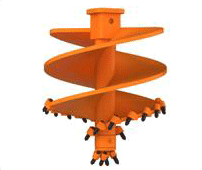 Contact Utility Equipment Parts to help you select the right auger, auger tooling, or replacement parts for your next job or to repair your digger derrick.
We are an authorized dealer for Pengo Augers and auger tooling, and replacement parts.
We also offer Terex augers, Terex Texoma augers, and all digger derrick supplies, parts and accessories.
If there is any auger or drilling product you do not see listed on our website, give Utility Equipment Parts a call to see if we have it.  Some of the parts we offer include:
Augers

MD Augers
MRR Augers
Terex Texoma Augers
Pengo Augers, Conical Teeth

Teeth, Bits, Shanks and Heads

Carbide Teeth
Dirt Teeth
Tooth Holders
Pilot Bits
Pressure Diggers (for both dirt and Rock)
We also have tools including outrigger pads, utility truck lighting and nylaflow tubing.  Having trouble with your hyrdaulics?  We have a control valve rebuild service to which gets your digger derrick back to work in just a couple of days.
Toll Free 877-761-5940 or Local 262-594-5964