Tow rope is essential to your business and your safety.  Sooner or later you will have a truck stuck in the mud, or some other inconvenient place.  So, you need to have a tow rope handy.
The best rope to own, like your winch rope, is made of synthetic fiber.  Double braid cordage offers high strength and low stretch properties – ideal for a tow rope.  In addition, synthetic ropes offer excellent wear life.
You may be asking … what size tow rope do I need?  Here's a good rule of thumb:
Multiply the weight of your vehicle by 2.5 times to get the right diameter tow rope.

The 2.5 multiplier takes into account weather, terrain, and how badly stuck the truck is.  Since every towing application is different, this formula seems to work well.
If the vehicle weighs 40,000 lbs. you would want to use a tow rope around the 100,000 lbs. range, which would be the 1-1/2" (90,000 lb. breaking).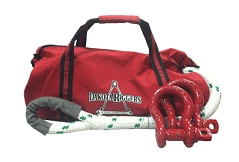 Shop Utility Equipment Parts for the highest quality tow ropes and straps. We offer double braided ropes using high-tenacity nylon fibers that feature sliding loop ends for easy fitting. Order one of our stock rope lengths or customer order one and we'll make it to fit your needs. Our ropes and straps can handle up to 200,000 lbs., and have terrific stretching capabilities that make them ideal for towing and pulling.
But wait, there's more.  Here's the perfect gift for that hard to please man on your list … a tow rope kit.  It comes with a convenient rope, a pair of shackle hooks and your very own tote bag.  Call Utility Equipments Parts to order one today!
The "UEP" Guys  


  We Know Parts!