Fiberglass can be used along with resin (plastic) to create a strong and light composite structure. What most people call fiberglass is properly referred to as Fiber Reinforced Plastic (FRP).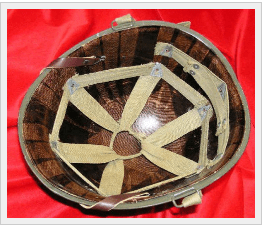 One of the earliest uses of FRP was by the United States military in WWII — making helmet liners (see picture below). After the war, returning GIs began experimenting with the material in the form of car bodies and boat hulls. Because so little was known about the strength of FRP in those years most of those items were "overbuilt." Boat hulls and car bodies made in the 50s and 60s are still around today, almost indestructible in their strength.
Fiber reinforced plastic, by some estimates, is six times stronger than steel for the same weight in materials. It is strong enough, in fact, for use in fiberglass swimming pools (water is quite heavy) and even fiberglass buildings. As an added benefit, FRP does not rust.
Now that you know some history of fiberglass, let's talk about the reason for this blog – fiberglass buckets, covers (or guards) and accessories. That's right, fiberglass is used to manufacture buckets for bucket trucks. There are three established methods.
Hand Lay Method – for low volume production (fiberglass bucket truck and crane covers and guards)
Spray Up Method – for low to medium volume of buckets (one person chopping 5-10 a day)
Resin Injection Method – when high volume production rates are needed
Hand Lay Method
The Hand Lay Method is mainly used for smaller jobs … upper control covers, hose covers, jib winch covers, etc. The production process starts with placing a fiberglass reinforcement into a mold and applying the catalyzed resin by hand, usually from a bucket, using a brush – hence, its nickname "Bucket & Brush." Other higher-strength reinforcements can also be added this way. This method offers good control of materials, enabling control of thickness and resin to glass ratio. Below is a fiberglass control cover from 4 different views. The outside of the cover is sanded and sprayed with a finishing layer of gel-coat.

Spray Up Method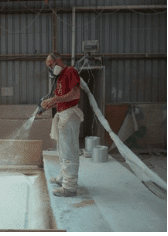 This method is faster than the hand lay process, and is used in making fiberglass buckets, shower stalls, bathtubs, car parts, etc. The spray up process involves someone operating a chopper gun (see picture below). It is so named because it sprays chopped strand reinforcement and resin simultaneously onto a mold. An experienced sprayer can achieve the desired bucket thickness, size, and weight by monitoring flow meters and scales. For example, most one-man (24x24x42) fiberglass buckets will average 60–80 lbs., depending on the amount of steel used for the bucket mount wall.
In the final steps of the spray up process, workers compact the laminate by hand with rollers. Steel, wood, foam or other core material may then be added, and a second spray up layer imbeds the core between the laminate skins. The part is then cured, cooled and removed from the reusable mold. The finishing process includes sanding down the rough spots, and spraying a layer of liquid gel-coat.
Below are pictures of three different types of buckets made of fiberglass, each with a different way of attaching the bucket to a bucket truck.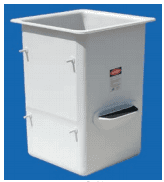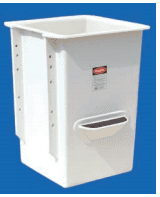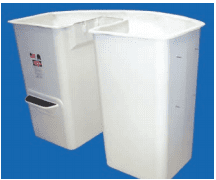 Besides being a fast process, the Spray Up Method is also relatively inexpensive making it ideal for production of large items and/or medium to large volumes of buckets. One drawback to the spray up method … it does create overspray making it somewhat wasteful and less cost efficient for smaller jobs.
Resin Injection Method
The resin injection method (sometimes referred to as resin transfer) is used where high production rates or specific criteria such as critical wall thickness or two molded faces are required. Reinforcement is placed in the bottom half of the mold. At that point, the mold is closed and clamped, and catalyzed resin is pumped into the mold under pressure until the mold is filled. The process is similar to plastic injection molding, but at lower injection pressures. Even so, the load is tremendous, requiring very strong molds which make the resin injection method an expensive process.
Speed of production is a plus, but resin injection has some drawbacks. Since this method is less operator-dependent than the Spray Up method, there can be patches within the bucket with less glass to resin ratio. Less glass can cause cracking, making the buckets less durable.
Utility Equipment Parts offers fiberglass buckets and covers as well as polyethylene liners for all makes and models of bucket trucks. Our buckets are durable and are made to fit your bucket truck specs.
Bucket Photographs: Thank you to Plastic Composites Company for allowing us to show pictures from their website.
The "UEP" Guys 


   We Know Parts!   And we are WWII history buffs too!  🙂