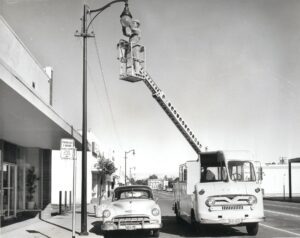 The Cherry Picker
Like most inventions, the articulated boom lift, commonly known as the cherry picker, was invented due to frustration. In 1944 Jay Eitel was picking cherries at his summer job in sunny California. He became annoyed with the inefficient process of having to climb up and down the ladder each time he moved to a new picking spot. Add to that, the safety issues of carrying a heavy basket up and down a ladder on uneven ground.
His frustration led to innovation. Mr. Eitel worked evenings and weekends to build an easily maneuverable, telescoping, steel structure mounted on a truck chassis with a simple one-lever control. By the end of World War II, he started his own company known as the Telsta Corporation and the bucket-lift became the "cherry picker." The design was used by the Bell Telephone Company and many other utilities and is still in use today.
The Boom Lift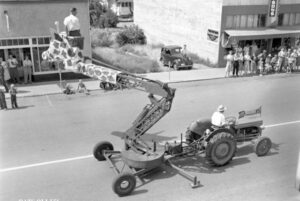 In Canada, Walter E. Thornton-Trump must have been feeling the same frustrations. In 1951 he is said to have invented a boom lift to make working in high places easier. Thornton-Trump called the boom lift the "Giraffe;" it sold for $2000. A later model was called "Girette." Mr. Thorton-Trump holds multiple  patents related to boom lifts including:
the power-operated boom structure
a lifting apparatus for electric-line construction or maintenance workers
the fiberglass structural member and method of making same.
The Telescopic Lift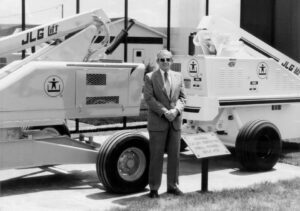 In Pennsylvania, John L. Grove and his older brothers were building farm wagons and started Grove Manufacturing Company in 1947. Needing a method of moving heavy steel for the wagons, John used his knowledge of hydraulics to develop a basic crane. Dealer interest in John's crane soon led to the decision to produce the first mobile hydraulic industrial cranes. That decision quickly transformed the company from a manufacturer of farm implements to a world leader in the crane market. In the late 1950s, John's work with Paul K. Shockey developed an all-steel hydraulic extension ladder for use on fire trucks.
John Grove and Paul Shockey teamed up again to start Condor Industries and began manufacturing self-propelled, telescoping, hydraulic aerial 'cherry-picker' style lifts. Condor Industries was later renamed JLG Industries (John L. Grove). JLG produced products and designs which included innovations such as
mounting lifts on track-driven frames
locating the crane operators cab on the turret
less expensive truck mounted cranes
scissor-type lifts.
By the end of his career, John Grove held over 60 patents.
Utility Equipment Parts (UEP) provides hydraulic parts and accessories for
bucket truck aka boom trucks or cherry pickers
lift and leveling cylinders for JLG telescopic lifts and more
UEP is well-known for our top-of-the-line service and availability. We answer the phones 24/7 and 365.  We know how important it is to get a response when your bucket truck or crane is down and support your with our prompt service.
Contact us today:
call TOLL FREE: 877-761-5940