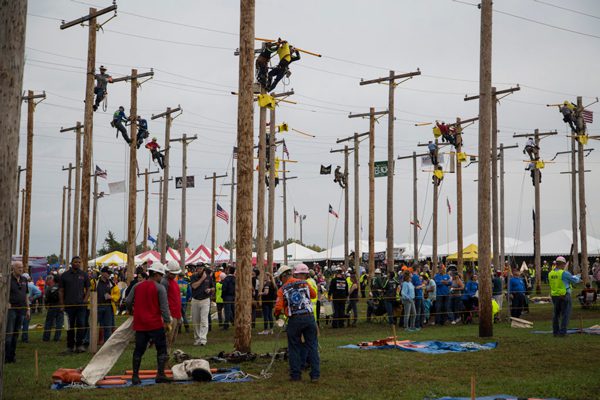 While running a bucket truck is serious business, it can also be serious fun. Did you know there are over 20 events, scattered across the county every year that highlight the skills associated with serving as a lineman?
The first Lineman's rodeo was in 1983. Dale Warman, a supervisor at Kansas City Power & Light and his buddies, created the rodeo as an incentive for future lineman to practice and improve their skills. The first rodeo and its participants were from the Technical School in Manhattan, (wait for it) Kansas. Today this rodeo is an international event – attracting lineman not just from the United States, but also the rest of North America, the Caribbean, and even Europe.
Some of the Lineman's Rodeos are done as pure competition, for example the Lineworker's Rodeo in Austin, Texas or the Whiskey City Lineman's Rodeo in Lawrenceburg, Indiana. Others are done for more serious reasons such as the NSUJL Benefit Rodeo in Freeland Pennsylvania. This event is held honor of linemen who have been injured or killed in the line of duty.
Lineman Rodeo Events
To keep things fair, some rodeos are just for apprentices.  Other competitions have events specifically geared toward different levels of experience, from apprentices to journeymen linemen.  Some rodeos include events for teams and senior competitors. Here is a list of typical events at a lineman's rodeo:
Written Test
CPR/AED
Climbing Skills
Bell Insulator Change
Hurtman Rescue
Climbing Skills
Transformer and Streetlight Change
Primary Insulator Change out
Vertical Switch Change
Bucket Truck Rescue
Digger Derrick/Excavator Obstacle
Braceless Crossarm Change
Fuse Cutout Relocation
How to find a Local Linemen's Rodeo
Lineman Rodeos are usually held at local fairgrounds, speedways, and parks.  A couple of the rodeos we found are held in conjunction with training courses about topics such as working around energized equipment, equipotential grounding, and arc flash hazards, making them both fun and educational.  This year rodeos started as early as February, which is when the Florida Lineman Competition was held. Don't worry, it isn't too late to see or participate; there are six lineman competitions that take place in May. To learn more about them visit the calendar of Lineman Rodeos that we found on powerlineman.com.
FYI, in addition to competitors, these events are always looking for volunteers and judges to keep things running smoothly.
Contact the UEP Guys Today
Utility Equipment Parts offers bucket truck parts and accessories for most utility trucks and lifts. We can also get you the tools and accessories that make a big difference in utility work — so that you can work safer and easier.