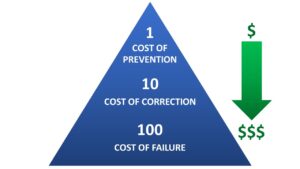 What is the 1-10-100 Rule you ask? Think of it as Benjamin Franklin's famous quote, "An ounce of prevention is worth a pound of cure." The 1-10-100 Rule means that one dollar spent on prevention, e.g. boom Lift Maintenance,  will save 10 on correction and 100 dollars on failure costs. Failure costs can be huge if you don't perform regular boom lift checks and maintenance. Your costs will probably include:
expensive repairs; what was originally a low-cost fix may turn into a total replacement of the part
lost wages while your truck is out-of-commission while being repaired
unhappy or lost customers
It adds up, often quickly.  Before spring is over, now is a good time to do a cleaning and checkup of your boom lift. We've provided you a checklist to follow:
Boom Maintenance Checklist
Check to make sure the operating and emergency controls are working.
Check all hydraulic, pneumatic, electrical, fuel and air systems.
Check the fiberglass and other insulating parts are in good shape with no cracks. Pay special attention if cracks are on the mount wall.
Check all mechanical fasteners and locking pins.
Check all cable and wiring harnesses.
Check for any loose or missing parts.
Check that the guardrail systems are stable.
Check for missing or unreadable placards, warnings, or operational, instructional and control markings.
Download a copy of our Boom Lift Maintenance Checklist.
Remember the 1-10-100 Rule when you're reviewing your boom lift. If you see that something is defective, fix it now while the cost of PREVENTION is $ before it gets to FAILURE $$$.
If you're in need of parts for your boom, contact Utility Equipment Parts. The UEP Team offers bucket truck parts and accessories from many well-known utility truck manufacturers. We offer aftermarket parts such as bucket liners and replacement buckets too.  These high-quality aftermarket replacements are compatible with most manufacturers. At UEP we are proud to be able to deliver to you the critical parts, tools and accessories that make a big difference in your work and safety.