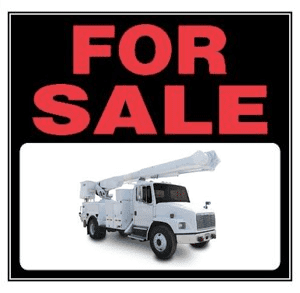 That used bucket truck seems like a great deal, and most likely it is. When buyers opt to buy a used bucket truck, they generally pay a lot less than the original cost. Normally, the value of a unit drops as much as 30 percent in the first three years and continues to decline as the boom truck ages.
Here are some important things to note about maintenance and repairs, before you buy.
Are Used and Replacement Parts Available?
When considering a used bucket truck, do some research to determine if and where parts can be purchased for the aerial lift. Occasionally there will be a model for which getting parts is difficult or impossible.  The top reasons for this are because the company that made it is no longer in business or they have decided not to carry parts for older models. For instance, you cannot get most parts for an Asplundh boom that is over 25 years old.
How old is the Boom/Lift?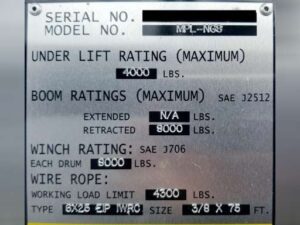 How do you find the age of the boom? Look to see if the boom has its ID Plate. The ID Plate displays the model and the serial number of the boom. The serial number will tell you the year and month the boom was manufactured. If there is no ID Plate, ask for service paperwork – the serial number for the aerial lift may be listed in the paperwork. The serial number is very important because it helps ensure that you can get the right aerial lift parts. Some manufacturers will not sell parts unless you have your unit's serial number.
Often, the aerial lift is not the same age as the truck it is mounted on. With proper care and regular maintenance, the average lifespan of an aerial lift can be 30 years. If the boom has a longer life than the original truck it was mounted to, it could have been mounted to a different vehicle. The serial number can usually give you this information.
Can you Get a Service Manual?
Request the complete operator & service manual. If the manual is not with the unit, most manuals may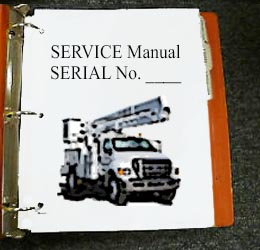 still be available for purchase. The manuals cover:
operations
maintenance
service
troubleshooting
In addition, they will contain parts lists and detailed engineering drawings of systems and select parts.
After you purchase your bucket truck, be sure to contact Utility Equipment Parts. We can support you by finding the parts your "new" truck needs and, if necessary, a manual. UEP is well known for our customer service. We always answer our calls – 24/7, 365 days a year. Good luck with your purchase!
Our phone number is 877-761-5940 or use our online form.