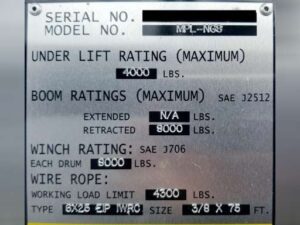 When you call Utility Equipment Parts for bucket truck parts we always ask, 'What is the model and serial number of your unit?'
To be clear, we're not asking about the truck body that the lift is mounted to, we don't want the VIN number on your truck. We're asking for the aerial lift or boom model and serial number. This information can be found on the boom or aerial lift ID Plate. These two pieces of information are critical; without them we can't be sure that we're ordering the correct parts for your unit.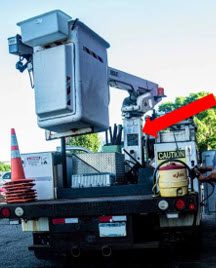 The ID Plate
Every aerial lift is assigned a serial number when it's built. The Model and Serial Number are engraved on the ID Plate.
Where Do I Find the ID Plate?
Go to the back of your unit and look at the pedestal of the boom. Most ID Plates are usually in view when operating the ground or lower controls. On older Hi-Rangers, pre-1994, the ID Plate was typically found on the lower boom, near the lower control valve.
What if I Can't Find My ID Plate?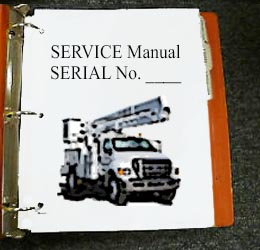 Sometimes the ID Plate is painted over, parts of it are scratched off, or the plate has been totally removed. Where do you go from there? If there are past records of service, there's a chance that the model and serial number are recorded on the paperwork. On older units, sometimes the serial number was etched into the fiberglass where the boom tip connects to the bucket.
When you do find the serial number of your boom, it's a good idea to record it in your maintenance manual for future use.  You could also take a picture with your mobile phone or ipad for future reference.
Contact the UEP Guys today
You can call us at 877-761-5940 or use our online form.  Whether you need a service and maintenance manual for your unit or one of our wide range of bucket truck parts, We'll help you find what you need at the best price.